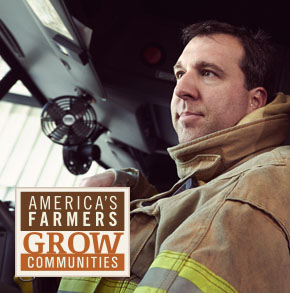 America's Farmers are not so different from you or me!
*This post was created in partnership with America's Farmers. All opinions are my own.
Pretty sure by now, any of you that have ever read my blog know that we have a small hobby farm. It's not big by any means, but it is a lot of work, none-the-less. What you don't know is that I wanted to live on a farm from the time I was little. Of course, back then, I wanted a farm for the horses, and chickens. I didn't realize how much work they required to stay up and running. I really admire women like Debbie Lyons-Blythe; they run huge farms, as well as families just like yours and mine.
Debbie knows all about the work that a real farm requires. She and her husband are raising five children on a farm that was originally homesteaded in 1890 and has been in the family for four generations. All of the children's earliest memories are of riding with their mom in the truck while doing normal daily farm chores. Debbie not only takes care of normal day-to-day ranch business, but also blogs and advocates for the cattle industry. She was named America's Farmers Mom of the Year for 2012. It's not hard to understand why!
Debbie, her husband Duane, and their twin boys (the other three children are in college), raise more than 500 head of cattle, as well as growing hay, corn, soybean, alfalfa, and wheat in Kansas. The twins, Tyler and Eric, are the youngest in the family. They play football (just like my boys) when they aren't helping on the farm. They are very proud of their mom, who, they say, "…does so much for us, but also the community."
Farmers and their families are not so different from my family, or yours. They wake up every morning, get dressed, and go to work/school, just like us. The difference is, their jobs touch all of us, in one way or another every day. Without farmers – where would we be?
You can learn more about farming with the Blythe's and other families at America's Farmers. They are more like you than you know! Check out this commercial that aired during the superbowl …